Main
»
2012
»
November
»
22
» What SEO is & How to Apply It to Your Blog or Website
---
5:08 PM
What SEO is & How to Apply It to Your Blog or Website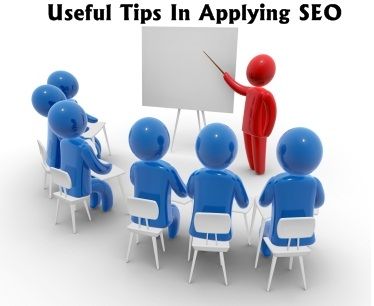 Starting a new website or blog can be a very exciting and satisfying, all is expected to get good Page rank carries and expect your search engine rankings even better. For many people this can be quite fast, while for others it can be a long wait job which sometimes prefers to leave. The thing about this is that if you do not have at least a basic knowledge of SEO will most likely end up abandoning that as many.
But do not worry as we will see 10 councils to help position faster and also improve your motivation.
Scope of Your Competition
It's good to know as much as possible about your competition so you can know who you're up against and what you should aim for. For example, you can start by finding out the number of inbound links to your competitors. This way you have an idea that you'll need to traverse it. For this you can use the tool BackLinkWatch
Also check out the rank in the search engines, what keywords they are using, and what is in their meta tags. You can not fight for first place unless you know what you're competing for. So be sure to analyze your competition as an initial action plan.
To do with keywords your competitors position themselves could use SEMRush and analyze your meta tags, you can use the Mozilla browser and tools, the option to view your html.
Keyword Research
One thing is to optimize your website for keywords, but if you are using bad keywords that people are not looking, then it's a huge waste of time.
There are plenty of free tools available online that can help you find the best keywords that have high search. These are the keywords you should optimize your site. As such tool Google Adwords .
You should consider using keywords long, with between 3 and 5 words. This is great for generating targeted traffic and quality. Finally, be sure to use keywords not precede in time, this will be relevant in the coming years. This way you can always count on them to bring traffic.
Write Quality Content
If you're not writing quality content, they really have no chance to get a very high rank. Your content has to be useful and original. When you create content, keep in mind that you want to create something that will make others want to link it on their sites and share.
Try to focus on "how to", "tutorial", because these tend to generate more traffic. If possible, add numerous supporting facts and references. Also be sure to add links on keywords within your content to other websites useful and relevant. When others see that you're related to them, may be encouraged to engage with you and this will help to increase your score.
The visual examples and graphics, videos, images and screen shots are also very useful and add quality content.
Deep Link to Other Pages or Cycle
Deep linking is to link to other pages on your site (other than the home page) within your content. It is important to link to internal pages with anchor text that contains at least 3 keywords for that page. This will not only help with the classification, but also helps to keep people on your site longer – reducing the bounce rate.
Optimize your Meta Tags
Google hates duplicate content, so if you want your website to be indexed properly, then you have to make sure to optimize your meta tags. The title tag and meta tags should be different on every page of your website or you could run the risk of sanctions. One thing that you do not have to worry too much is meta keywords, as Google has stated that it does not use it in their ranking criteria.
A few tips to remember is to keep the title tag under 60 characters and the description in 160 characters. Both labels must be relevant to the content of the page.
Stay away from spam with methods such as keyword stuffing and falsification of what is in the content. Remember, to get to the top of the rankings, your information (displayed in search results) has to attract attention so that people click there in search results.
Optimize Your Titles and Subtitles
Like their meta tags should also be sure to optimize your titles and subtitles. It does this with the H-tags (H1, H2, H3, etc) and really play an important role in organizing the information in its website. You should only have one H1 tag on your page, normally the title page or the title of his article (in case you have a blog). Can then break sections with tags H2, H3 and further if necessary.
Each of these title tags should contain keywords that you want to highlight. Because search engines consider the title as the most important and real to identify the contents.
Optimize Your Title and ALT tags on Images
We continue with the title and alt tags that are used to describe images that are. Again, these can be optimized with keywords that help a higher rank. Remember that most of the search engines now have image search capabilities.
When users search for specific images, the search engines use keywords in your title and alt tags to help display appropriate images. That's why it's so important to include keywords, so that people can find your content through image search.
Optimize file names
When saving images (before uploading them to your site), what kind of names used? Are you using something like image 1, image 2, image 3, etc? If you are doing this or something similar, is a very bad idea, because it says nothing about what your image is. File names must be relevant to the image, should also include keywords. Doing this also helps you rank high in search of images, as it shows that the content is relevant to the search term.
Really use keywords in each party primary, is an opportunity to optimize your website, improve your rankings. Also try to use the same technique with the names of the website as well as blog entries. Unless you have locked the page for the robots, all the words are visible to search engines and can be indexed.
Use XML Sitemap
The Sitemap not only helps visitors to find content faster, they also help search engines understand the structure and layout of your website. This is one of the easiest ways to improve your rankings because the web crawlers can find content quickly. Furthermore, sitemaps are quite easy to create, why not take advantage of them?
Validate your Source Code
Finally to make sure you can validate your HTML from your site and fix any errors it finds. This helps ensure that you do not have broken links, images or invalid codes that can cause problems for visitors. The easiest way to do this is to use the free W3C Markup Validation . Google penalizes for having a large number of errors, so be sure to fix everything that can, if you have any errors.
If you're ready for more, you can even go as far as validating the optimization of your site in search engines. A great tool for this is the Website Grader by HubSpot. Lets see how well this website and if you have any problems with SEO. So once you are done with these 10 tips, also be sure to find out the degree of your website and use the tips provided to further improve your SEO.
I hope this is great information revealed valuable for their business on the Internet.
Posted By:
optiinfo | Tags: iphone application development, Optiinfo, SEO tips, seo, Website Development Company, Web Development Company | Rating:

0.0

/

0